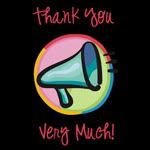 Free Therapy!
The way it works is that you take out all your frustrations on people/things that peeved you off during the week and thank them in a very sarcastic way, for being who or what they are/doing what they did. Post on your blog with the button above and then link it to
The Daily Dribbles
Sleep
- Thanks so much for NOT showing up til at 2am and then not staying for more that 4 hours.
Direct TV
- Thanks for NOT broadcasting the local channels so I then have to have a antenna that doesn't get good reception for me to record Grey's Anatomy.
Gas bubbles in Kimi's tummy
- Thanks so very much for invading my little baby's tummy so she is uncomfortable and cranky. I would appreciate you making yourself scarce!
Sydnee
- Baby girl, thanks so much for putting half a roll of toilet paper in the toilet and then overflowing it so I could take 30 minutes to clean it up. Also for the afternoon nap surprises that you do with your dirty diapers. That's a fun way to start the afternoon.